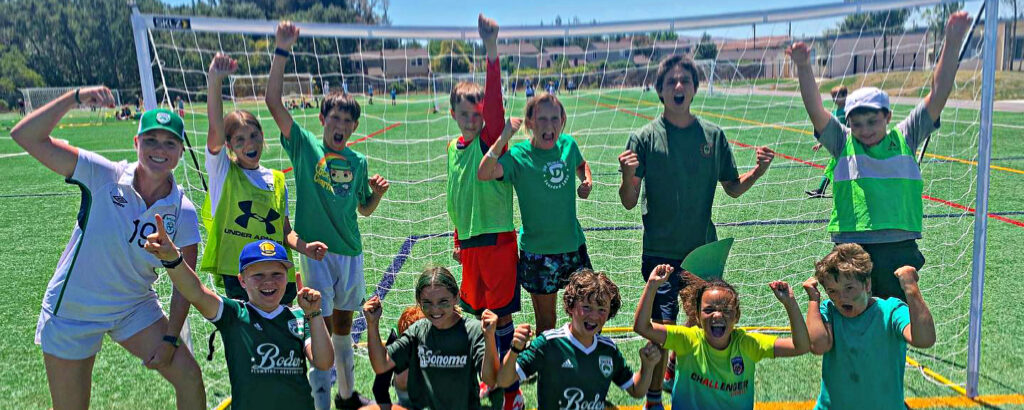 Fiona O'Sullivan is a Marin native who grew up playing and learning the game of soccer right here in the West Marin Youth Soccer League. Fiona attended Drake HS where she played 4 years of Varsity soccer. She captained the Drake team that made it to the MCAL finals, was a 4 year MCAL 1st team all-league player and holds the record for career goals at Drake HS.
Fiona attended the University of San Francisco on an athletic scholarship for soccer. She captained the Lady Dons her senior year and was the team's leading goal scorer in 2007. Fiona graduated in 2008 with a Degree in International Politics and a Minor in Latin American Studies.
At 17 years old, the summer after she graduated from High School, Fiona started Fiona's Soccer Camp (re-named O'Sullivan Soccer Academy in 2016). What started out as a 4-day camp with 7 kids has evolved and grown over the past 11 years to 6 weeks of camp, however the principle, objectives, and values have stayed the same.
After college Fiona pursued her dreams of playing professional soccer and seeing the world. Although Fiona was born in San Francisco and raised in Marin she is an Irish citizen by birth because her father, Aidan O'Sullivan, was born and raised in Ireland. Her Irish heritage has allowed her to play for the Irish Women's National team where she has been a permanent fixture in the start line-up since her debut in the summer on 2009.
Professional Soccer Career
• Irish Women's National Team 2009-Present
• Notts County FC – FAWSL – Nottingham, England 2014-Present
• SC Freiburg – Bundesliga – Freiburg, Germany – 2012-2014
• ASJ Soyaux – Feminine 1 – Soyaux, France – 2013
• Kvarnsvedens IK – Damallsvenskan – Kvarnsvedens, Sweden – 2011
• Pitea IF – Damallsvenskan – Pitea, Sweden – 2011
• AIK Stockholm – Damallsvenskan – Stockholm, Sweden – 2010
• California Storm – WPSL – Sacramento, USA – 2009-2010
• Sonoma County Sol – WPSL ­ Santa Rosa, USA – 2006-2007
Professional Soccer Career Highlights
• 2nd All-Time Goals scored Irish WNT
• 2010 Irish WNT Player of the Year
• SC Freiburg leading goal scorer 2012 & 2014
• California Storm leading goal scorer 2009 & 2010
• Drafted by Chicago Redstars of NWSL 2010 (opted for career in Europe)
Fiona's passion for soccer goes beyond her own career as she has been the volunteer assistant coach for the Drake HS Varsity girls soccer team since 2009. She also has served as head-counselor at the USF soccer camps and guest trains local club soccer teams in the Bay Area. Fiona is also fluent in English, French, German and Spanish.
The counselors at O'Sullivan Soccer Academy are hand selected by Fiona. All counselors have played soccer at a high school level or higher and were chosen not only because of their soccer ability but mainly because of their ability to relate the game to kids. "The counselors at O'Sullivan Soccer Academy are positive role models who know how to create a healthy balance between learning the game and having fun." Our head counselors have all played at the collegiate level and, through extensive youth and some collegiate coaching, have a unique understanding and love for the game.
What connects the counselors and what makes O'Sullivan Soccer Academy such a valuable experience is that we all love working with kids and sharing with them the life lessons the games has given us. We teach kids how to win and lose with respect for yourself and the opposition. Most importantly we stress that having fun doesn't hinge on winning and losing or being the best player but rather working your hardest and being a good teammate!!! We teach kids what the game has taught us; have fun by respecting the game, respecting yourself, and respecting the people around you.
– Fiona O'Sullivan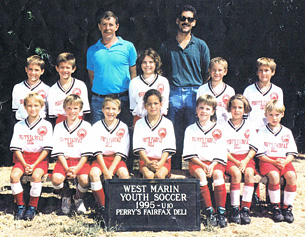 Here's Fiona at age 9
getting ready for her West Soccer Season