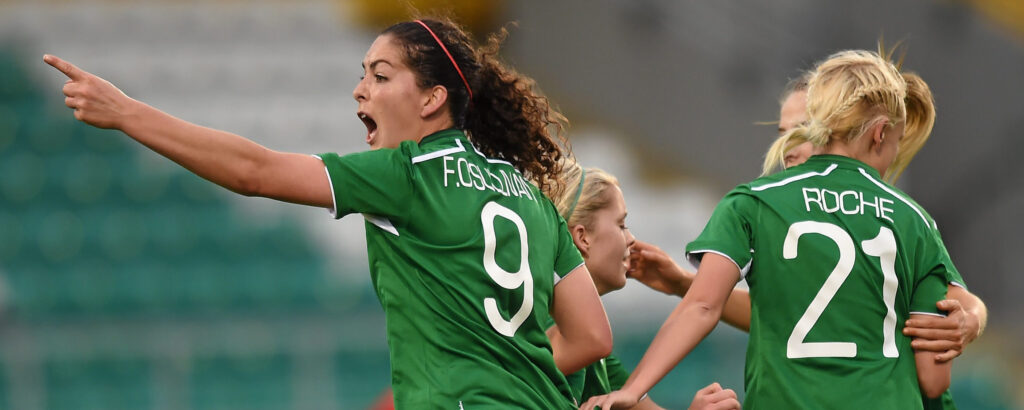 Following a career as an international soccer star, Fiona O'Sullivan, is now an in-demand coach, trainer, speaker and mentor of young athletes. She operates her well-regarded training operation, O'Sullivan Soccer Academy, in Northern California and is a coach at Force North Soccer, a premier club on the San Francisco Peninsula. A key focus for O'Sullivan is using soccer as a vehicle to help girls become confident and successful in life.
Early Career
O'Sullivan's Irish father gave her automatic Irish citizenship but the Bay Area native — fluent in English, French, German and Spanish — also has a Native American grandmother. She grew up playing soccer, participating in the West Marin Youth Soccer League as a child, then becoming a star player at Sir Francis Drake High School in Marin County. Playing varsity all four years, she captained the team that went to the regional finals, was named a first-team, all-league player and still holds the career goal record at Drake.
During her senior year of high school, she launched her summer soccer camp, starting with three students for a four-day stint but continuing the camp as she attended the University of San Francisco (USF) on an athletic scholarship. Not surprisingly, her college career paralleled her earlier efforts, with O'Sullivan wrapping up four years of playing by captaining the team as a senior and becoming the top goal scorer. She graduated in 2007 with a degree in international politics.
Professional Career
Her abilities put her on the radar of pro teams so she joined the California Storm, playing with Brandi Chastain. Achieving seven goals in ten games put her on the all-league second team and she was the leading goal scorer in 2009 and 2010. Serendipitously her Irish heritage enabled O'Sullivan to also play on the Irish women's national team during this period starting in 2009. She became a permanent fixture in the starting lineup, being named player of the year in 2010 and being one of the top goal scorers in its history second all time, goals scored for Ireland. She helped the team qualify for the 2011 World Cup.
Called a "strong, imposing attacker" by the Football Association of Ireland, O'Sullivan was named its international player of the year in 2011. While participating on the Irish national team, she also played the European pro circuit. First, she signed with a Swedish team, next moved to a team in France, then landed on a team in Germany's Bundesliga, the country's top professional league, as she kept getting offers from better and better clubs.
Some highlights during this period include being the top goal scorer in the Bundesliga in 2012 and 2014. She scored a hat trick in a key win for the club in 2014 before transferring to a team in the FA WSL, the highest women's league in soccer-mad England. She delighted fans with critical goals in key games against famous teams like Arsenal Ladies.
Coaching Career
The day after the English Cup final in 2015, O'Sullivan left the European pro ranks — except for her play with the Irish national team — and reported to her first training camp as assistant coach of the University of San Francisco's women's soccer team.
Her return to the Bay Area has enabled her to kick her O'Sullivan Soccer Academy into high gear, expanding its reach and student population. Currently, her operation builds skills and esteem among boys and girls aged 5 to 14 in locations around the San Francisco Bay Area. In addition, she was added to the coaching staff in May 2016 of Force North Soccer, a nationally recognized, non-profit youth soccer club on the San Francisco Peninsula that is an elite academy for soccer development and play. Besides coaching teams and training future star players, O'Sullivan heads up Force North's summer camp program and leads the college prep program to counsel student in how recruiting and playing at that level work.
Teaching Girls Leadership
Now a San Francisco resident, she coaches and counsels both genders at Force North and her own academy but her special focus is on girls, who can particularly benefit from her "soccer-as-life" approach to helping young females turn their athletic experiences into powerful tools in a less-than-equal world. Star athletes are clear role models, with the fact that American players won the last women's World Cup being a useful motivator for coaches and mentors like O'Sullivan.
Having seen many examples of how such guidance has produced more confident, successful young women, O'Sullivan's passion is a future leadership academy for girls using the vehicle of soccer. Already, O'Sullivan Soccer Academy gets rave reviews from its young female participants, as seen in numerous social media comments like "best camp ever!" In fact, aspiring soccer players from around the world travel to Northern California to train with O'Sullivan.
Recently, kids from Germany, France, Japan, China and Tanzania have signed up for her program, which enables her not just to build playing and leadership skills but use the sport to break down cultural barriers as well. Whether her audience is youngsters at her academy, Force North or players on the local soccer teams she talks to as a guest coach, O'Sullivan is an inspiring example of how soccer prowess turns girls into strong, confident leaders.